What The Electric Car Industry Might Gain From BMW Tesla Collaboration
---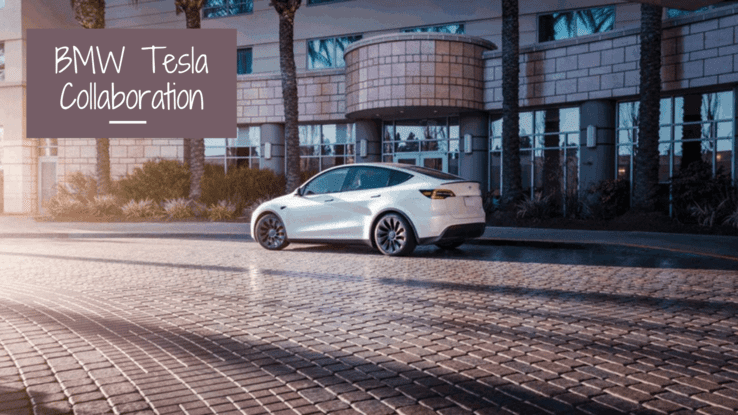 Rumours of a potential future BMW Tesla collaboration have been circulating for a while. A Tesla x BMW vehicle may already be on the way to customers, albeit this hasn't been confirmed by an unofficial Tesla account. The partnership model will serve as "an alternative to the Volkswagen ID.3 and MG4", the account claims.
While a combination between Tesla's cutting-edge all-electric technology and BMW's pursuit of solid-state batteries and top-notch build quality may just be wishful thinking, it also has the potential to be a match made in automotive heaven. But how would the model actually look? And what might a collaboration between these two powerful automakers signify for the development of driving?
What features might the Tesla x BMW model have?
It is challenging to imagine how exactly the Tesla and BMW collaboration model may appear in the absence of any confirmation from either Tesla BMW. However, the unofficial Tesla account (@teslakk) that sparked the claims has claimed that the vehicle will be a tiny sedan with a production cost that is allegedly half that of the Model Y or Model 3. The cooperation model will be "a car that changes everything," the report claims.
Of course, it is important to treat these speculations with a grain of salt, especially in light of the fact that the automotive industry has before been the target of similar accusations. Despite this, @teslakk did not start the rumours of a Tesla and BMW partnership. That duty belongs to USA Today, which broke the news of a proposed alliance between the two manufacturers. According to that story, the partnership would concentrate on fusing BMW batteries with Tesla technology. In essence, the cooperation would involve Tesla sharing its battery technology with BMW in order to enhance the present line-up of EVs produced by the German automaker.
Why Would Tesla Benefit from a Partnership?
Tesla's struggle to establish dominance in markets outside of China and the US contributes to its limited production capacity. The Berlin-Brandenburg facility in Germany, also known as Giga Berlin, has recently begun producing Tesla vehicles as part of efforts to enter the European market. Unfortunately, these expansion attempts were put on hold in the middle of 2021 as a result of opposition from locals and environmental organizations who were worried about the new factory's environmental effects and German regulatory compliance. Tesla is still awaiting authorization from the authorities to start manufacturing at Giga Berlin.
Having said that, a collaboration between Tesla and BMW might be very helpful in accelerating this process. BMW is inherently skilled at managing the German regulatory hurdles that Tesla is currently dealing with with Giga Berlin because it is a German company. In addition to helping Tesla navigate the complex European regulatory frameworks, a partnership with BMW would help the automaker gain more support from the public by introducing Tesla to the European auto market alongside a reputable brand.
Why Would BMW Benefit from a Partnership?
Tesla & BMW collaboration will also takes benefit from the alliance. In particular, BMW might benefit from Tesla's assistance in developing its electric vehicle technology.
Only the all-electric i3 and the hybrid sports car i8 are now available from BMW as part of their current lineup. Unfortunately, because of its outdated electric battery technology, the i3 can only travel 80 miles on a single charge, like the majority of electric vehicles. The Tesla Model S 85D, on the other hand, has a staggering range of 295 miles. A long-range version of the i3 might soon be available to drivers if the reports are accurate, as the primary focus of the initial USA Today article that hinted the prospective partnership between the two auto titans was building new batteries for BMW's EVs.
TESLA-INSPIRED BATTERIES AND BMW CHARGING STATIONS
The BMW i3 is among the best electric vehicles and can travel more than 80 miles on a single charge. Although this is a significant advancement, the Tesla Model S 85D can travel 295 miles. And BMW might soon receive access to that remarkable technology. According to a recent story from USA Today, the two businesses are in discussions about working together to develop BMW batteries, which might imply that the range of BMW's electric vehicles is set to increase significantly.
This information follows Tesla's announcements made this summer that they would be happy to allow other automakers access to their network of high-speed battery service centres. Given that Tesla has invested in 97 charging stations across the nation, this would represent a significant achievement for electric mobility. According to the firm, Tesla owners can now travel across the nation without ever worrying about their power supply. Additionally, they have stations on both of the American coasts.
The Austin BMW servicing specialists at German Auto Center believe that a partnership will revolutionise the electric vehicle sector and that it is highly likely. BMW is one of the most popular brands in the world, and it has the power to push electric vehicles into the mainstream. Tesla has been working toward that, and BMW might be able to make it happen.
Conclusion
The two businesses were reportedly in discussions last year, according to USA Today, about working together on BMW batteries. It was claimed that Tesla would collaborate with the German manufacturer to share its battery expertise in order to extend the range of BMW EVs.  However, Tesla has acknowledged that it intends to let rival manufacturers of electric vehicles use a portion of its US charging infrastructure. By the end of 2024, Tesla apparently intends to share more than 7,000 charging stations.